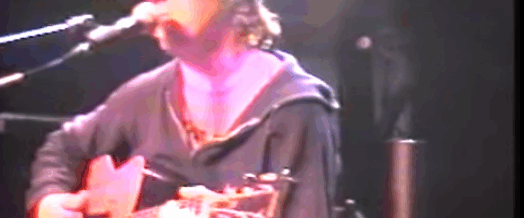 Friend and publicist Dorien Garry was there that night:
"In typical Elliott fashion he was a little bewildered by being the focus of the night on such a historical NYE. "Is that what people really want to do on New Years Eve?" He felt like he really needed to up the ante and give people some moneys worth. So that meant he borrowed a bunch of bizarre red clothes, a fuzzy bath robe and red knit red hat, as a costume of sort, to jazz it up. He was especially nervous about leading a countdown to midnight, and the Knitting Factory had put a bunch of bottles of Champagne in the dressing room for him to pop and share. Since none of us were exactly seasoned Champagne drinkers he fretted for a minute that he wouldn't get the bottles opened in time. i offered to start trying to open them a few minutes before midnight and starting taking the foils and twists off the tops. This led to the bottles slowly, and steadily starting to loudly pop open from the dressing room which was a mere 5 feet away from the stage. So as Elliott played a quiet song a few minutes before midnight, a disruptive popping sound starting keeping an uneven tempo and adding to what was a pretty comical night, which was being heavily marketed as the end of the world. It was one of my favorite nights with Eliiott, he pulled it all off amazingly, and the night was a long fun adventure…"
Dorien shares more about her time with Elliott in our documentary, Heaven Adores You.
Special thanks to Elizabeth Racz for sharing the VHS of this performance, a rare gem for Elliott Smith fans.
Share