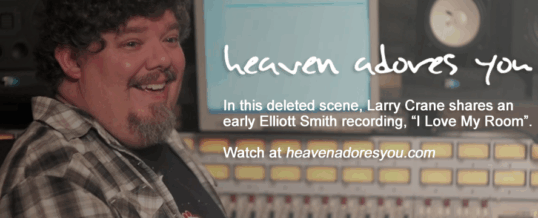 In 2012, during the principal photography of "Heaven Adores You", we sat down with Larry Crane at Jackpot! Recording Studio in Portland to discuss Elliott Smith's brilliant musical trajectory. This is a moment where Larry played us a clip from the archives: an adolescent Elliott Smith and this incredibly catchy and complex arrangement called, "I Love My Room". We were floored.
Early versions of the film included this entire take, but were eventually re-worked to bring more context to his early recordings. It's still a great moment with Larry as we watch his real time reaction to the song.
---
Still haven't seen Heaven Adores You? It's available now on iTunes, DVD and more.
Share